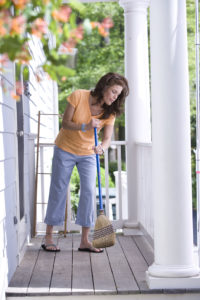 Welcome to April!  We do not have a lot going on this month seems we did everything in March.  Hopefully the weather will start being a little more normal instead of hot to cold and cold to hot!
The parking on the curbs is getting better so I say , "Thank you "
Now, I would like to ask you to please take the time to clean outside your door and sweep the breezeway. I know some of you do this everyday and I say ,"Thank You!" Please do not throw trash, cigarette butts or wrappers in the breezeway.   If you have bikes under the stairs please make sure they are standing up and not lying in the way so someone can trip and fall. I have also noticed a lot more trash on the grounds and parking lot when I come in the mornings. Please DO NOT throw these items out, it makes our property look bad. If you see trash please take the time and pick it up. Take PRIDE IN YOUR HOME!
Spring Break is coming up and we  hope everyone enjoys their time off but we want you to be safe too. Please remember if your children are outside playing YOU MUST SUPERVISE THEM.  We are not responsible for any accidents that may occur.
We hope you  have a Happy Easter.